An Evolution – New Design for Sunny Street Café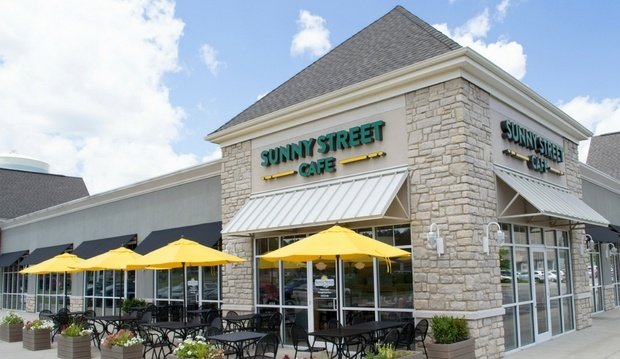 Sunny Street Café recently opened its newest restaurant in Columbus, OH, unveiling a prototype of the modernized interior layout and decor. Sunny Street has always been creative with their menu items and customer service, and a new updated space is a natural continuation of that innovation. The new design is a result of a more than a year's worth of planning, and also the first major interior design change since Sunny Street first opened their doors back in 2007. "The new prototype is really an evolution not a revolution," says Mike Stasko Jr., Vice President of Brand Strategy. "We wanted to update our design but still have our comfortable Sunny Street feel. It took a lot of careful time and planning to come up with a design that didn't separate itself from the current restaurants but at the same time modernized and enhanced the brand."
New decor
The prototype includes a new decor package, from the counters to the servers' uniforms. With a wood feature wall, butcher block tables, counters, and seating the space still retains its warm Sunny Street atmosphere but with a modern twist. The decor package also includes new art, tiles, whisks as decorative lighting, signage, dishware, and updated patio seating.
In the main dining area a new large community is available for open seating or for large parties. The table highlights Sunny Street's neighborly focus and family-friendly settings. There is also a private banquet ining room with AV presentation capabilities, perfect for business meetings and parties. "Though we made numerous updates and changes you still get that Sunny Street sense of welcome when you walk in the door. The servers are friendly and attentive and the food still comes out as delicious as always," says Stasko. "We're really excited about this new look of the restaurant- it really moves us forward and modernizes us."
Streamlined Back-of-House
Along with new decor there are also new menu items, including nitro cold brew coffee on tap and fresh squeezed orange juice. In the back of house an improved equipment package was installed that focuses on reducing energy consumption and increase efficiency. There are lower hoods, streamlined cook lines, rapidly heating induction burners, and an undercounter refrigerator. A separate prep station was added to help support the growing catering business for the Café.
Future Growth
The design was clearly a success, as this newest restaurant broke opening record volumnes for the brand. Sunny Street will be implementing the new design into their upcoming restaurants and are developing a retrofit package for exisiting ones.
---
Franchising.com wrote an article about our new re-design:
"Modernizing and Reimagining" Sunny Street Café's Restaurant
Our new design was also covered by Dan Eaton at Columbus Business First:
Columbus breakfast and brunch chain updates to 'cleaner, more modern' look